The Women Work! Advocacy Toolkit is designed to give you all the skills you need to be a successful advocate for women's economic justice and equality.
The Advocacy Toolkit is benefit available only to Women Work! members. Each installment will be released first through the Economic Equity Insider and and will be available to download through the members only section of the web site.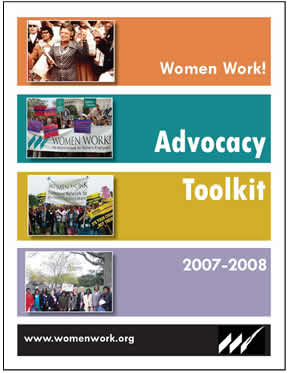 Women Work! Advocacy Toolkit:Cover
Women Work! Advocacy Toolkit: Table of Contents
Women Work! Advocacy Toolkit: How to Use This Guide
Section #1: Hosting Elected Officials At Your Program
Section #2: Federal Legislative 101
Section #3: Meeting with Your Legislators
Section #4: Engaging Clients in Advocacy
Section #5: Creating an Advocacy Action Calendar
Section#6: Using Data/Telling Stories
Section #7: Budget and Appropriations 101
Section #8: Managing the Media
Section #9: Building Relationships With Your Legislator
Download the entire Tool Kit here
Advocacy Resources
You have the power to advance economic justice and equality for women. Here are resources to get started.
Quick Guide to Advocacy & Lobbying (PDF)
Congress 101 (PDF)
Key Contacts in Congress and the Administration
Policy Tracker
Learn more about critical legislation and issues that affect working women.
Equal Pay for Women!
Did you know that women still continue to earn approximately 77% of men's salaries? Get information you need to promote equal pay at the local, state and federal levels!
Managing the Media Guide (PDF)
Action Works!
Time-sensitive email alerts on policy issues affecting women's training, employment and economic justice keep you connected and provide ways you can take action. Sign up to receive Action Works now!